Johns Hopkins University Offers a One-Year Biodesign Program for Graduate Students Looking to Earn a Biodesign Master's Degree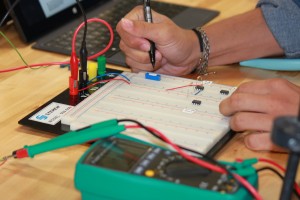 The biodesign program at Johns Hopkins University gives a competitive class of student entrepreneurs the unique opportunity to spend a year fully immersed in the worlds of biomedical engineering and innovation. This accelerated MSE program offered through the Center for Bioengineering Innovation and Design (CBID) takes a hands-on approach to learning; students graduate with a Master of Science in Engineering, as well as real-world knowledge of the biodesign process that will equip them for careers in biomedical device development, medical research, or engineering and life sciences fields.
Under the guidance of Johns Hopkins' nationally respected physicians and faculty, students learn precisely what goes into the development and commercialization of new medical tools, from the initial research stages through production and marketing. Unlike traditional, classroom-based biodesign master's programs, this intensive program places a significant emphasis on field work and innovation. Our biodesign program trains the next generation of biomedical inventors; alumni of the CBID program have earned more than $5.8 million in prize/grant funding for projects completed as students.
CBID biodesign program students earn a master's degree in one academic year. Students will be taught to:
Determine needs in today's healthcare industry after taking part in clinical rotations at Johns Hopkins Hospital and a global health trip
Identify opportunities to solve these needs through technological innovations and measuring the clinical impacts these inventions could make
Evaluate the viability of new medtech projects by assessing regulatory requirements, cost restraints, legal considerations, competitor dynamics, and the current intellectual property landscape
Develop comprehensive business plans under the guidance of the industry's foremost subject matter experts and corporate executives
Prospective students for Johns Hopkins University's biodesign master's program must submit an application online by December 31. A background in engineering is not required, although applicants must demonstrate the ability to contribute to biomedical research and development.
Please fill out the form below if you have additional questions: