Johns Hopkins University's Center for Bioengineering Innovation and Design Master's Degree Program Emphasizes Translational Research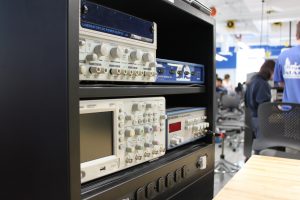 At Johns Hopkins University's Center for Bioengineering Innovation and Design (CBID), master's degree candidates are fully immersed in the world of translational research, using principles of science and engineering to improve the healthcare industry on both a global and a local scale. By observing and solving pressing clinical needs, CBID students earn their MSE degrees in an accelerated, non-traditional program, gaining invaluable real-world experience along the way.
Led by Johns Hopkins University's Department of Biomedical Engineering, the Johns Hopkins-Coulter Translational Partnership was established to catalyze the commercialization of promising biomedical innovations. This is one of only six such university-based translational research partnerships in the nation, and has resulted in the development of more than 17 start-up companies and more than $300 million in follow-on funding. With its heavy emphasis on translational research, the CBID bioengineering design master's program incorporates clinical rotations and global health trips for hands-on observation, followed by several lab-based design assignments in which students put principles into practice.
Because of an ever-increasing demand for better and more cost-efficient medical technologies, biomedical engineers are in high demand at medical device startups, healthcare organizations, research labs, and consulting firms. And, with a bioengineering design master's degree from one of the nation's top science and research universities, CBID graduates are primed to stand out in a competitive job market. Graduates are prepared for success in a variety of specialty fields, including:
Medical imaging
Systems physiology
Cellular, tissue, and genetic engineering
Clinical engineering
Biomaterials
Bioinstrumentation
Rehabilitation engineering
Students considering the CBID program for a bioengineering design master's degree can submit their applications online through December 31. A background in engineering or medicine is not required, although applicants must demonstrate an interest in translational research and an ability to contribute unique skills to the team.
Please fill out the form below if you have additional questions.