Johns Hopkins University's Bioengineering Grad Degree Programs Emphasize Medical Innovation and Design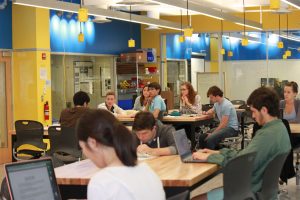 The bioengineering grad degree programs at Johns Hopkins University's Center for Bioengineering Innovation and Design (CBID) are distinct from others in that they emphasize hands-on field work over traditional, lecture-based instruction. Not only does each student graduate with practical, real-world medical innovation experience, but also an MSE degree from one of the nation's top universities for science and healthcare.
CBID students are immersed in the medical device design process as it is practiced in the industry, working in teams to complete each of the following steps:
Problem assessment
Conceptual design
Preliminary design
Prototype development
Prototype testing
Prototype redesign and redevelopment
Throughout the medical innovation process, degree-seeking students receive the support of top investors, entrepreneurs, federal administration experts, and other industry professionals as they create practical solutions for today's most pressing healthcare challenges. Students who wish to pursue postgraduate careers in device design and development have full access to this support network as they launch medtech startups, consulting firms, and other endeavors.
Before beginning the medical innovation process, students in the CBID bioengineering grad degree programs participate in clinical rotations at Johns Hopkins Hospital. They also complete a global health trip to a hospital or clinic in a developing nation. By observing clinicians, nurses, residents, and medical technologists in these two settings, students gain a unique perspective on the day-to-day challenges faced by healthcare professionals and their patients. CBID students then use their engineering background and problem-solving outlook to improve the current standard of care.
Selection for our bioengineering grad programs occurs at the beginning of each calendar year. Candidates must submit their CBID applications online by Jan 5.