Johns Hopkins University Offers a Unique Bioengineering Grad School Experience Through Its Biohealth Innovation Program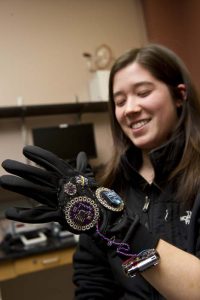 Bioengineering grad school is often a multi-year commitment requiring several credit hours of upper level engineering coursework, numerous essays and tests, and a thesis project. At Johns Hopkins University, the Center for Bioengineering Innovation and Design (CBID) offers a competitive group of students a unique alternative: a biohealth innovation program that teaches the biomedical device design process in a real-time setting of product development. Students accumulate both theoretical knowledge and practical skills for the development of biomedical technologies that improve patient care.
From the very first day of bioengineering grad school, students in our CBID program learn from top innovators in the fields of clinical medicine, medical device development, licensing, and patent acquisition. Our biohealth innovation program begins with clinical rotations at Johns Hopkins Hospital, during which our bioengineering grad school students observe physicians practicing in a variety of disciplines, including:
Orthopedic surgery
Cardiology
Interventional radiology
Neurosurgery
Obstetrics
Emergency medicine
Transplant surgery
The clinical observation process is then repeated at an overseas hospital, where resource limitations have a more pronounced impact on the quality and availability of care.
After students return to Johns Hopkins University from their global health trip, they are assigned into teams to complete the biohealth innovation component of the program in our state-of-the-art design studio and prototyping workshop. During this phase of the program, students collaborate with clinical sponsors, FDA consultants, faculty mentors, patent lawyers, and other industry professionals to design a clinically viable solution for a pressing healthcare challenge. Participants conduct planning sessions and feasibility studies, laboratory tests, and prototype refinement experiments to see the process through to completion. The program's capstone event is our annual Design Day, an open forum for students to discuss the need for, development of, and projected outcomes of their device with faculty, sponsors, clinicians, peers, and the public.
Prospective bioengineering grad school students should submit their online applications to the CBID biohealth innovation program by December 31.
Please fill out the form below if you have additional questions.