Earn a Bioengineering Graduate Degree from Johns Hopkins University, One of the Best Bioengineering Graduate Schools in the Nation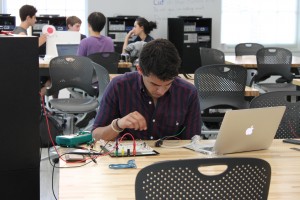 Every year, a number of the nation's top bioengineering graduate degree students enroll at Johns Hopkins University, due in part to the institution's reputation as one of the best bioengineering graduate schools in the nation. For six consecutive years, Johns Hopkins University been named one of U.S. News & World Report's Best Biomedical Engineering/Bioengineering Schools, earning the No. 1 spot in 2015. While most bioengineering graduate students are enrolled in the university's traditional MSE program, a translational program that focuses on biodesign and innovation also is offered. This highly competitive one-year master's program , which typically accepts between 20 and 24 applicants each year, allows bioengineering students to observe real challenges in the healthcare industry, then provides them with the resources and support they need to develop an innovative solution.
The bioengineering graduate degree program offered through the Center for Bioengineering and Design (CBID) entails:
A clinical needs and assessment component – Students spend most of the summer observing Johns Hopkins Hospital physicians working in departments such as neonatology, oncology, and orthopedic surgery.
A global health trip – Students observe day-to-day operations at a healthcare clinic in a country such as India or Tanzania, gaining a better understanding of situations in which cost-effective medical technologies are underdeveloped.
A condensed design and engineering coursework component – The CBID program places a reduced emphasis on traditional lectures, but students receive didactic instruction on topics such as the business and ethics of bioengineering, and the commercialization of new biomedical inventions.
A heavy focus on brainstorming and team-based prototype development – Using the resources in Johns Hopkins' state-of-the-art Biomedical Engineering Design Studio, bioengineering graduate degree students research, develop, test, and refine medical devices with a team of their peers. These projects are presented at an annual Design Day, the capstone event of the CBID MSE program.
A wide variety of mentorship opportunities – Students can connect with established industry leaders in bioengineering and product development corporations.
Students interested in earning a bioengineering graduate degree through the Center for Bioengineering and Design must submit an online application prior to December 31. CBID alumni are available to answer questions applicants might have as they decide which bioengineering graduate schools are best for their needs.
Please fill out the form below if you have additional questions: