Consistently Ranked Among the Best Bioengineering Graduate Programs in the Nation, Johns Hopkins University Offers a Unique Option for Earning
an MSE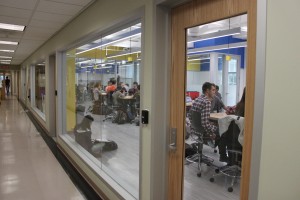 Johns Hopkins University is annually recognized as offering one of the best bioengineering graduate programs in the country by U.S. News & World Report. Known for academic excellence, world-class faculty, and notable alumni accomplishments, Johns Hopkins University welcomes the brightest minds in bioengineering and prepares these students for entrepreneurial success.
The Center for Bioengineering Innovation and Design (CBID) program is one of the nation's only one year bioengineering graduate programs. This intensive master's program focuses heavily on biodesign and innovation, and enables students to be exposed accumulate several years' worth of dynamic real-life experience in an accelerated time frame.
As students work toward their graduate bioengineering degrees, they participate in several unique programs:
A clinical rotation component, where students shadow the physicians at Johns Hopkins Hospital to identify relevant medical needs that can be improved through technology
A global health trip, where students travel overseas to determine the greatest challenges faced by physicians – and patients – in low-resource settings
A prototyping project, in which teams of students develop a tool or technology to improve the quality and affordability of healthcare on a domestic and/or global scale
A business component, in which students develop value propositions, analyze market value and competitor products, and navigate the complex process of taking a device to market
Students have access to a 5,000-square-foot, state-of-the-art Biomedical Engineering Design Studio on campus, as well as extensive faculty and clinical support from Johns Hopkins University educators and Johns Hopkins Hospital physicians. During this time, many CBID students also seek mentorships with the program's corporate partners, including noted innovators at companies such as Medtronic and Boston Scientific.  Upon graduation, students will have developed a functioning prototype for a tool or technology that is ready for commercialization.
Undergraduates interested in bioengineering graduate programs should strongly consider applying to the Center for Bioengineering Innovation and Design's one year master's program. Online applications must be received prior to December 31.
Please fill out the form below if you have additional questions.