Bioengineering Graduate School at Johns Hopkins University, One of the Top Biomedical Engineering Schools in the Nation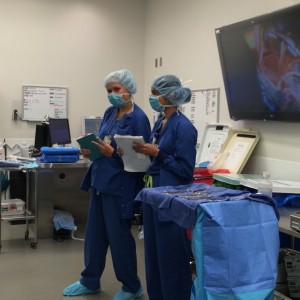 Johns Hopkins University offers a unique graduate school option for bioengineering students interested in earning a Master of Science in Engineering in a fast-paced, non-traditional format. Students of the Johns Hopkins Center for Bioengineering Innovation and Design (CBID) participate in a challenging, year-long schedule of clinical rotations, global health modules, condensed business lectures, and hands-on prototyping projects. In turn, students graduate from one of the top bioengineering graduate schools in the country in just one year, empowered through extensive, first-hand knowledge of the medical device innovation cycle.
As part of the Johns Hopkins University Department of Biomedical Engineering, the Johns Hopkins Center for Bioengineering Innovation and Design gives graduate school students the opportunity to:
Follow world-class physicians and identify unmet health needs during clinical observations at Johns Hopkins Hospital
Travel overseas to assess the unique challenges posed by low-resource healthcare markets
Select, based on commercial viability and technical feasibility, a biomedical device to produce in response to an observed healthcare challenge
Proceed through the design and development process – from needs assessment to device testing and revision – in collaboration with a multidisciplinary team of physicians, Johns Hopkins bioengineering graduate school faculty, corporate advisors, and venture capitalists/investors
Develop a commercialization strategy that plans for regulatory and financial requirements, intellectual property protection, and startup or licensing
Throughout the duration of this fast-paced program, students accumulate not only a great deal of academic knowledge, but also entrepreneurial, management, and marketing skills that translate to the real world after graduation. Students also will have an opportunity to build relationships with leaders in fields such as neonatology, oncology, orthopedic surgery, and various corporate sectors. This unique approach, combined with Johns Hopkins' wealth of clinical and scientific expertise, has helped the university consistently rank as one of top bioengineering graduate schools in the nation by U.S. News & World Report.
To be considered for CBID's MSE program, bioengineering graduate school applicants must submit an online application prior to December 31.
Please fill out the form below if you have additional questions: