The Bioengineering Master's Degree Program at Johns Hopkins University Prepares Students for Careers in Medical Device Development and Other Related Fields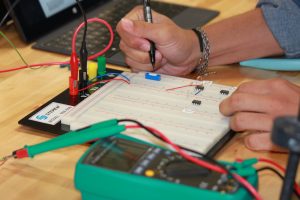 The bioengineering master's degree program at Johns Hopkins University's Center for Bioengineering Innovation and Design (CBID) is one of the longest-running of its kind. With an emphasis on hands-on experience and medtech innovation, this robust, fast-paced program gives students invaluable insight into the real-world medical device development process, preparing them to transition from graduate school to careers in research, consulting, healthcare, biomechanics, and other related fields.
At Johns Hopkins University, we have developed a longstanding reputation for excellence in medical innovation and engineering. With the assistance of esteemed faculty and clinicians, CBID students have completed several successful medical device development projects, including:
DryncSync, a hydration status monitor
Renalert, an acute kidney injury monitor
Stasys, a treatment device for type 2 diabetes
HemoGlobe, a screening technology to detect prenatal anemia
For their efforts, CBID students have been awarded more than $5.8 million in prize/grant money and entered into several licensing agreements to bring their medical technologies to market. By graduation, CBID students will have experienced firsthand each of the unique steps involved in the needs identification, planning, production, and post-production process. And, throughout the medical device development cycle, students have the unique opportunity to build relationships with top investors, clinicians, entrepreneurs, and other medtech industry professionals. This provides our students with the connections and practical experience necessary for real-world success.
The application deadline for our bioengineering master's degree program is December 31. Prospective students must submit their applications online. Experience and/or education in engineering or medical studies is encouraged, but not required.
Please fill out the form below if you have additional questions.