Rankings of the Nation's Best Bioengineering Master's Programs Routinely Place Johns Hopkins University at the Top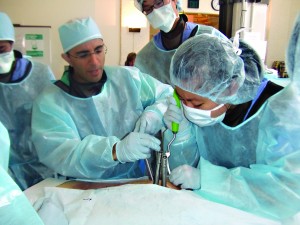 Johns Hopkins University is routinely ranked among the nation's best bioengineering master's programs. One of the options available to students seeking a Master of Science in Engineering is an intensive, one-year program through the Center for Bioengineering Innovation and Design (CBID). This highly competitive program is structured in a way that emphasizes biodesign and innovation over traditional lectures. It is one of the only accelerated bioengineering master's programs in the United States, accepting approximately 20 to 24 applicants each cycle. Alumni have gone on to earn more than $5.8 million in prize/grant money for further development of their medical devices while making notable impacts in the fast-paced worlds of biomedical design and clinical healthcare.
Students in the CBID program complete several classroom-based components addressing the business aspects of medical device development, but spend most of their time in clinical rotations and collaborative prototyping. Students are given the unique opportunity to learn not only from renowned Johns Hopkins University faculty and researchers, but also the world-class physicians at Johns Hopkins Hospital and established mentors at biomedical development companies throughout the nation.
Further contributing to the prestige of this bioengineering master's program and distinguishing it from other MSE programs are a number of factors, including:
The extensive fieldwork components – both domestic and international – through which students earn extensive insight into everyday healthcare needs
The state-of-the-art, 5,000-square-foot Biomedical Engineering Design Studio on campus, which was recently renovated to include a wet lab, a rapid prototyping lab, a student machine shop, and all the tools and technologies needed to produce and test biomedical devices
The culture of entrepreneurship and ability to network with leaders in the fields of education, research, clinical practice, engineering, investing, and commercialization
CBID students begin their work in May of each year; graduates are awarded a Master of Science in Engineering degree after just one year, rather than the two-plus years required of other bioengineering master's programs. Prospective students must apply online to the CBID program prior to December 31.
Please fill out the form below if you have additional questions: