Earn a Bioengineering Master's Degree at Johns Hopkins University's Engineering Graduate School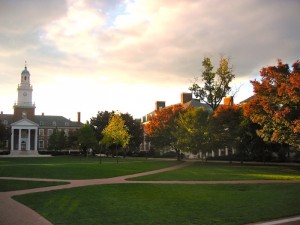 Each year, thousands of students seeking a bioengineering master's degree apply to Johns Hopkins University, home to one of the nation's most respected engineering graduate school programs. Within the university's renowned Biomedical Engineering Department exists the Center for Bioengineering Innovation and Design (CBID), an MSE program that offers students the unique and challenging opportunity to complete a bioengineering master's degree within a single academic year. Students who complete the program not only graduate with a Master of Science in Engineering, but also with invaluable knowledge of the biomedical device design and production cycle. Graduates are uniquely empowered to revolutionize the healthcare industry through the creation of technological solutions, medical design startup companies, and consulting businesses.
Unlike a traditional bioengineering master's program, the Center of Bioengineering and Design's intensive MSE program emphasizes observations, brainstorming, design, and innovation. Students shadow the clinicians at Johns Hopkins Hospital to assess the challenges posed by day-to-day patient care, then continue this process during a Global Health Immersion Trip, an overseas journey to a clinic in a developing nation. The remainder of the CBID MSE program is spent designing, producing, and testing a medical device while developing a commercialization strategy for the new product. Students have been awarded more than $5.8 million in prize/grant money for further development of their prototypes. By the program's completion, bioengineering master's students will have developed rich connections with some of the nation's most respected clinicians, educators, and corporate advisors.
Upon completion of this bioengineering master's program, students could be suited for a career in:
Basic and applied research in engineering, biology, and medicine
Medical or scientific research services
Professional engineering and consulting
Medical equipment and supplies manufacturing
Pharmaceutical equipment and drug manufacturing
Technical support in a clinical setting
Undergraduates interested in applying to the Center for Bioengineering Innovation and Design's engineering graduate school MSE program must complete the online bioengineering master's application prior to December 31.
Please fill out the form below if you have additional questions.