Johns Hopkins University Offers a One-Year Bioengineering MSE Degree Program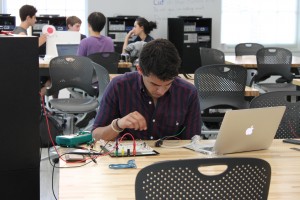 Students at Johns Hopkins University have the unique opportunity to earn a bioengineering MSE degree in one year through our Center for Bioengineering Innovation and Design (CBID). This fast-paced program takes a hands-on approach, emphasizing clinical rotations and prototyping projects along with condensed classroom-based instruction. Accepting 20 to 24 of our top applicants each year, our program allows students to work closely with some of the nation's most respected professors, physicians, investors, and corporate advisors, gaining a one-of-a-kind experience that's academically challenging and intensely rewarding.
Upon admission to our bioengineering MSE degree program, students:
Observe the world-class physicians at Johns Hopkins Hospital to discover which processes or procedures could benefit most from technological improvements
Complete an international health trip to a country where healthcare tools and resources are less advanced than they are in the United States
Develop practical solutions for these issues, bringing a fully functioning prototype to life by the completion of the program
Gain firsthand experience with business plan development, learning about the various financial, legal, and corporate factors that can influence the commercialization process
After graduating with a bioengineering MSE degree from Johns Hopkins University, students are primed for a wide range of careers in the biomedical industry. CBID graduates have earned more than $5.8 million in funding for the further development of their biomedical innovations, and many of our alumni have secured positions in medical technology startups and competitive consultancy firms. Additionally, because Johns Hopkins is consistently ranked as one of the top bioengineering schools in the country, CBID graduates are leading candidates for further academic pursuits at the nation's most prestigious medical and graduate programs.
To be considered for admission into the bioengineering MSE degree program at the Johns Hopkins University Center for Bioengineering Innovation and Design, submit your application online by December 31.  Applicants must be able to demonstrate an ability to contribute to biomedical advancements, although a background in engineering is not required.
Please fill out the form below if you have additional questions.