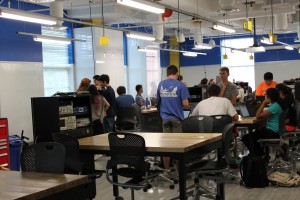 Consistently recognized for having one of the nation's best bioengineering programs, Johns Hopkins University is a leading destination for students pursuing a master's degree in engineering. The private research university is home to the Center for Bioengineering Innovation and Design (CBID), which provides a select group of students with the unique opportunity to earn postgraduate engineering degrees over the course of a single academic year, as opposed to the two-plus years required of many other bioengineering master's programs. CBID students are immersed in the worlds of biodesign and innovation, and graduates are equipped with the tools and experience they need to contribute to the transformation of the healthcare industry through technology.
An Innovative Curriculum for Innovative Thinkers
Students in the CBID MSE program observe the challenges that clinicians face on a regular basis, then break into teams to create medical devices that will help improve the cost and accessibility of healthcare. While other bioengineering graduate programs may follow a more traditional curriculum, the CBID program at Johns Hopkins incorporates:
Clinical rotations at Johns Hopkins Hospital, with diverse observation opportunities in departments such as orthopedic surgery, transplant surgery, cardiology, emergency medicine, interventional radiology, and obstetrics/gynecology.
A global health trip to a clinic in a low-resource area, such as Nepal and Ethiopia, where basic healthcare services are limited by a lack of affordable and accessible technologies. This is an experience available to CBID students that is virtually unparalleled by other bioengineering master's programs.
Hands-on prototyping projects, in which students are grouped into teams based on areas of interest and led through the process of designing, testing, and marketing a biomedical device. Each team presents their final prototype at an annual Design Day, the capstone for the CBID graduate degree program.
Instructional components that emphasize the economic, financial, and corporate aspects of medtech innovation, as well as sociological and economic forces that drive the biomedical business and the implantation of new technologies.
Our Alumni
The alumni of this innovative bioengineering program have gone on to launch startups to bring their medical device to commercialization, join esteemed companies like Boston Scientific and Johnson & Johnson, and further their education. They have been awarded more than $5.8 million in prize/grant money, and one startup that was launched by CBID alumni, Intelehealth, has been recognized with numerous prestigious grants, including Creating Hope in Conflict: A Humanitarian Grand Challenge.
CBID program graduates will happily share their experiences of learning in the nation's most highly regarded bioengineering program (according to U.S. News & World Report). Our alumni are available to answer questions that prospective students may have, so fill out the form below if you have additional questions.