Prepare for a Career in Biomedical Engineering with a Bioengineering Master's Degree from Johns Hopkins University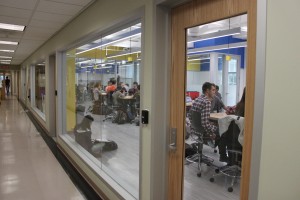 Those pursuing biomedical engineering careers can consider the master's degree program offered by John Hopkins University's Center for Bioengineering Innovation and Design (CBID). One of the first programs of its kind, the CBID MSE program – a collaboration of the Whiting School of Engineering and the Johns Hopkins School of Medicine – was developed to educate the next generation of innovators.
At the Center for Bioengineering Innovation and Design, we follow a bedside-to-bench-to-bedside model:
The first phase of the program involves a series of clinical rotations, both at Johns Hopkins Hospital and an overseas health clinic. Students work one-on-one with some of the world's best clinicians and top-level biomedical engineering researchers, gaining insight into day-to-day challenges that they carry with them through the device design process.
After the observation phase, students are paired into teams and tasked with creating practical solutions for major healthcare needs. Working in our newly renovated design studio under the supervision of the renowned Johns Hopkins biomedical engineering faculty, master's students have access to the state-of-the-art tools and technologies they need to progress from concept to prototype.
Lastly, our students learn precisely what it takes to make their developments available to physicians and patients. Education comes full circle at the Center for Bioengineering Innovation and Design, and students graduate with a comprehensive understanding of the development and commercialization process.
Equipped with extensive biomedical engineering experience and prestigious master's degrees from Johns Hopkins University, CBID graduates are uniquely qualified for various bioengineering pursuits. Our alumni have not only secured a total of more than $5.8 million in funding for the ongoing development of their projects, but many have also gone on to hold leadership positions at top engineering consultancy firms and biomedical startups.
To be considered for admission to next year's Center for Bioengineering Innovation and Design program, submit your application online by December 31. Graduate fellowships are available for biomedical engineering students earning their master's degrees through the CBID.
Please fill out the form below if you have additional questions: