Biomedical Engineering Students Can Earn Master's Degrees at the Johns Hopkins University Center for Bioengineering Innovation and Design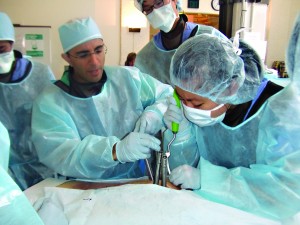 A Johns Hopkins University master's degree can provide a biomedical engineering student with the education and experience necessary to pursue a career in device development, pharmaceutical manufacturing, technology commercialization, medical research, or another related industry. The prestige of a Johns Hopkins University education, combined with the real-world experience provided by our Center for Bioengineering Innovation and Design (CBID), uniquely prepares our master's degree recipients to succeed in the competitive field of biomedical engineering.
One of the first programs of its kind, the Center for Bioengineering Innovation and Design takes an innovative, non-traditional approach to biomedical education. While other master's programs emphasize lectures and research papers, the CBID provides students with more practical hands-on experience through:
• Clinical observations at Johns Hopkins Hospital
• Global field work at a clinic in a developing nation
• Lab-based prototyping projects
• Business plan development competitions
The CBID accepts just 20 to 24 applicants per year, giving students the opportunity to work closely with Johns Hopkins University's renowned bioengineering faculty. Financiers and corporate advisors who are actively involved in the biomedical industry also work closely with our master's students, providing real-world insight into the device design, development, and commercialization process.
No other program combines each of these aspects the way that we do, and no other program provides as comprehensive an education in as short of a time frame. Our intensive master's degree program is condensed into a single calendar year, allowing students to quickly accumulate knowledge and experience and promptly begin making an impact in the healthcare industry.
To be considered for admission into next year's CBID biomedical master's program at Johns Hopkins University, applicants must submit an online application prior to December 31. An undergraduate degree in an engineering field is beneficial, but not required.
Please fill out the form below if you have additional questions: