The Engineering Grad Program Offered at Johns Hopkins University's Center for Bioengineering Innovation and Design Immerses Students in Medical Device Design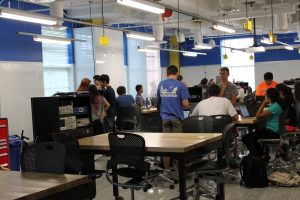 Engineering students seeking a unique grad program can apply to Johns Hopkins University's Center for Bioengineering Innovation and Design (CBID). Unlike other MSE degree programs, the CBID program takes a more hands-on approach. Students are immersed in the medical innovation design process for a fast-paced, year-long experience that culminates in an MSE degree.
Beginning in summer and running through the fall and winter semesters, the CBID master's program has students observe clinicians at Johns Hopkins Hospital and an overseas health clinic, then apply their observations to team-based research projects. Working in the recently renovated CBID design lab, students create practical solutions for both local and global health needs, focusing not only on relevancy and clinical viability but also cost effectiveness and marketability.
At each step of the medical innovation cycle, our clinician advisory board provides insight into the clinical needs process, guiding students through each of the essential steps. Throughout the CBID engineering grad program, students move their projects from the lab to commercial development, taking into consideration:
The biggest challenges that patients and physicians face in today's medical landscape
The impact of resource constraints on the availability and efficacy of healthcare in developing nations
The legal, economic, and regulatory factors that influence the development and commercialization of their devices
To apply for the CBID engineering grad program, submit your application online by December 31. We welcome applications from all students with an interest in medical innovation, whether or not they have traditional engineering backgrounds.
Please fill out the form below if you have additional questions: