Engineering Grad School Option with an Emphasis on Biomedical Device Design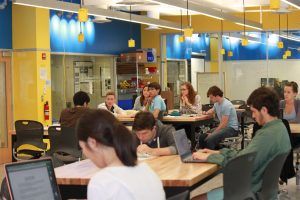 As a top-ranked engineering grad school, Johns Hopkins University provides a unique program to students who are pursuing a career in biomedical device design. The Center for Bioengineering Innovation and Design (CBID) offers a hands-on MSE degree program that is completed over the course of one year, providing full immersion in the design and development aspects of biomedical engineering.
In a collaborative, team-based environment, CBID students see the device development cycle through from beginning to end. Students have full access to the recently renovated BME design studio, which is equipped with all of the state-of-the-art equipment needed to brainstorm, build, test, evaluate, and refine biomedical device design ideas. Additionally, prior to beginning their design projects, students shadow specialty physicians at Johns Hopkins Hospital and complete a global health trip to acquire real-world insight into the top needs of clinicians, hospitals, and patients. This allows them to determine the most viable ways to make an immediate impact in the healthcare industry.
CBID projects are overseen by Johns Hopkins' biomedical engineering grad school faculty. Students are also invited to collaborate with industry mentors from top corporations such as:
USAID
Boston Scientific
Medtronic
All Children's Hospital
The GE Foundation
The CBID master's degree program not only offers exposure to the real-world biomedical device design process but also hands-on experience with market research, capital acquisition, business plan development, and patent acquisition. Students are given robust, dynamic opportunities to establish their leadership and decision-making skills, while forming partnerships that have the potential to last long after graduation. CBID engineering grad school applications are accepted online through December 31.
Please fill out the form below if you have additional questions: