Grad School for Bioengineering Can Help Students Prepare for Careers in Medical Engineering and Device Design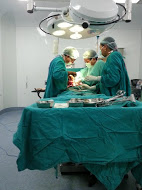 Students who go to grad school for bioengineering often have their choice of several careers in medical engineering, biotech design, and other related fields. At Johns Hopkins University – one of the nation's top ranked universities for science and medicine – the Center for Bioengineering and Design (CBID) provides today's brightest minds with resources, perspective, and exposure to real-world experiences that are unmatched by other bioengineering grad school programs.
The CBID bioengineering master's degree program places a heavy emphasis on hands-on design, using a condensed curriculum that includes:
Clinical rotations through various specialty departments at Johns Hopkins Hospital
Global health trips to a developing nation
Prototyping projects in the CBID design studio
Device design presentations at the annual Student Healthcare Design Competition
Throughout our one-year graduate program, students collaborate with some of the brightest minds in medical engineering, including inventors, investors, patent attorneys, federal regulations experts, and physicians. This gives students unique insight into the actual device manufacturing process, enabling them to move forward with a variety of careers after graduation. Many CBID alumni have gone on to develop novel devices, therapeutics, diagnostic technologies, and even digital apps to improve the efficacy and availability of the healthcare industry.
Students considering grad school for bioengineering must submit an online application to CBID by December 31.  We welcome students with a variety of backgrounds, including those with undergraduate degrees in chemical engineering, mechanical engineering, civil engineering, pre-med studies, and other related fields.
Please fill out the form below if you have additional questions: