**DUE TO VOLUME OF PARTICIPANTS, REGISTRATION IS NOW CLOSING ON TUESDAY, MARCH 24TH AT 3 PM EDT**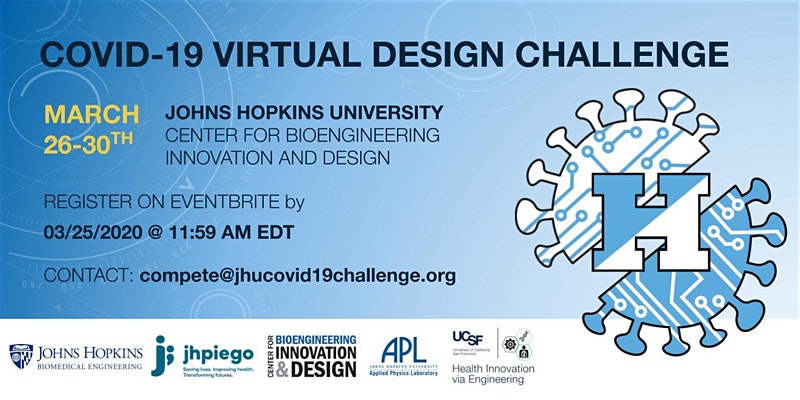 The Johns Hopkins Center for Bioengineering Innovation & Design (CBID) is inviting teams to apply to compete in a five-day, student-run, entirely online design challenge. Join us to develop innovative solutions to the problems posed by the COVID-19 pandemic. Participants can be university students, faculty, and affiliates who register through this site and agree to the competition rules.
This design challenge is open to teams all over the world. Over the course of the event, teams will work on urgent problems and challenges that have been identified and validated by subject matter experts. Solutions to these problems have the potential for timely impact in the fight against COVID-19.
Each team will have access to lectures and Q&A sessions with experts on the disease as well as the design process. They will also be joined by Innovation Mentors who will provide mentorship and help teams follow an effective design process and think through solutions.
Judges will be experienced experts and health care solution developers who can provide guidance on resources and connections to further develop the top ideas. Teams presenting the best ideas will be invited to work with CBID to secure resources and contacts to further develop their concept.
Teams can chose to work in one of the following themes:
Supporting and protecting front-line healthcare staff and their families.
Equipping people with accurate information so they can make informed decisions.
Minimizing transmission of the coronavirus in homes and communities.
Addressing shortages of critical health care equipment.
Designing solutions that can work in low and middle income countries around the world.
We are currently working alongside experts from the Jhpiego, UC San Francisco, and the Johns Hopkins Applied Physics Laboratory (APL).