The MSE Degree Program at Johns Hopkins University Allows Students to Earn Their Bioengineering Master's Degree in a Calendar Year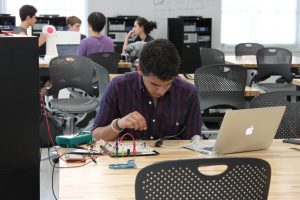 The MSE degree program offered at Johns Hopkins University's Center for Bioengineering Innovation and Design (CBID) gives students the unique opportunity to earn a bioengineering master's degree from one of the nation's most respected universities while gaining both practical knowledge and hands-on experience in the medtech innovation process. The longest-running program of its kind in the country, the CBID program prepares some of today's brightest minds for careers in medical device design, biomechanics, research and development, and other related fields.
Our one-year MSE degree program includes a condensed coursework component, as well as:
Clinical rotations – Students shadow the nationally recognized physicians at Johns Hopkins Hospital to observe their day-to-day challenges and brainstorm potential solutions.
A global health trip – Students gain first-hand experience working with limited resources in an overseas hospital or clinic, broadening their understanding of the effect of economic constraints on healthcare practices.
A team-based design and development project – Students develop their leadership skills while creating a practical solution for one of the previously identified issues, receiving feedback from accomplished industry professionals throughout the process.
The CBID program provides bioengineering master's students with access to a fully renovated, state-of-the-art design studio. The program's focus on hands-on design, innovation, and collaboration allows students to immerse themselves in real-world bioengineering applications, which in turn helps prepare them for a smoother transition into their post-graduate careers.
Individuals who are interested in the CBID MSE degree program should submit their applications online by January 5.  We welcome bioengineering master's candidates with a variety of backgrounds, although undergraduate coursework in engineering, pre-medical studies, or a related field is preferred.