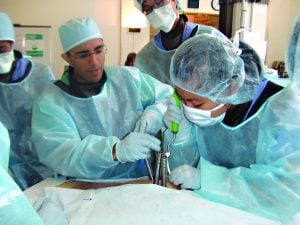 Johns Hopkins University offers a one-year MS program that allows students to earn their degree while gaining hands-on experience with medical device prototyping and product development. At our Center for Bioengineering Innovation and Design (CBID), students complete clinical rotations, global health trips, coursework, and real-world design projects that prepare them for careers in the medical device industry.
What Our Program Entails
The CBID master's degree program takes students through the entire device design cycle, from observation and analysis to development and commercialization. Throughout this experience, students collaborate with top industry experts, including:
Renowned clinicians at Johns Hopkins Hospital
Experienced investors and medical device company entrepreneurs
Regulations experts at the Food and Drug Administration and other government agencies
Leadership staff at top medical device design companies, such as Boston Scientific and Medtronic
The CBID medical device master's program familiarizes students with pre- and post-market requirements, as well as device classifications, import and export regulations, and public health guidelines. Students learn how to efficiently research intellectual property, write business plans, present their ideas to outside advisors, and complete other core steps in the device development process. Students also develop their leadership, communications, and marketing skills throughout the duration of the CBID program.
Why Choose CBID
This one-year MS program emphasizes field work and real-life experiences. Traditional graduate curriculum that involves sitting in lecture halls and taking tests play a very small role in this program. Instead, students experience the real-life issues facing the medical community today by observing doctors, patients, and families and learning firsthand about their unique needs. From the world-renowned Johns Hopkins Hospital to low-resources health clinics in third-world countries, students become immersed in the medical field to identify the clinical needs in these environments. This makes our engineering degree program different from any other, and why we hold the No. 1 ranking as the top biomedical engineering program according to U.S. News and World Report.
The CBID's one-year MS program begins in the summer and runs continuously through the fall and spring semesters, culminating in a medical device design capstone project. Master's degree-seeking students can submit their CBID applications online through January 1.
Please fill out the form below if you have additional questions.