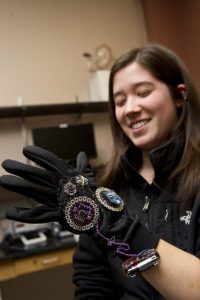 Johns Hopkins University is a private university that offers several dynamic options for earning a bioengineering graduate degree. The Center for Bioengineering Innovation and Design (CBID) offers an intensive one-year master's degree program for innovative thinkers and those interested in pursuing a career in medical device technology. This is one of the most competitive bioengineering graduate schools in the nation as only 20 to 24 students are selected each year.
Earning an MSE Through the CBID
The CBID program at Johns Hopkins University has been ranked as the nation's top bioengineering graduate school by U.S. News & World Report. This non-research-based program emphasizes:
Clinical observation, both locally at Johns Hopkins Hospital and abroad
Real-world collaborative design projects
Industry mentorship
Unlike learning in a traditional classroom environment, one that involves sitting in lecture halls and taking exams, students in the CBID program receive hands-on experience through their clinical rotations. This way, they can come back to the classroom with plenty of ideas they've identified after spending time interacting with doctors and patients in both a world-class hospital setting and a low-resources health clinic. After spending three months in clinical rotations, students spend the rest of the program working on a medical device prototype – brainstorming ideas, testing the device, and developing a commercialization plan. The culmination of all their hard work is the annual Design Day showcase where students present their medical device to faculty members and revered industry professionals for feedback.
Students in this graduate program are able to learn not only from Johns Hopkins' esteemed faculty but also from experienced mentors throughout the industry. The CBID has robust partnerships with organizations such as Boston Scientific, Medtronic, the GE Foundation, and USAID. Throughout the course of their program, students gain real-world insight from renowned professionals who understand what it takes to succeed in the field of biomedical engineering.
Graduating With an MSE
The CBID's graduate program awards a Master's of Science in Engineering for Bioengineering Innovation and Design. Students who complete the program are equipped for careers in medical device development, healthcare research, consulting, and other similar fields. A number of CBID graduates have gone on to earn patents and licensing agreements for their biomedical innovations. Several others have founded startups that are actively involved in the development of novel technologies.
Students who are considering top bioengineering graduate schools are encouraged to submit their application to the CBID online by January 1. Space is limited for this one-year master's degree program.