Johns Hopkins Team Wins NIH Design Competition With Spinal Surgery Aid
August 20, 2014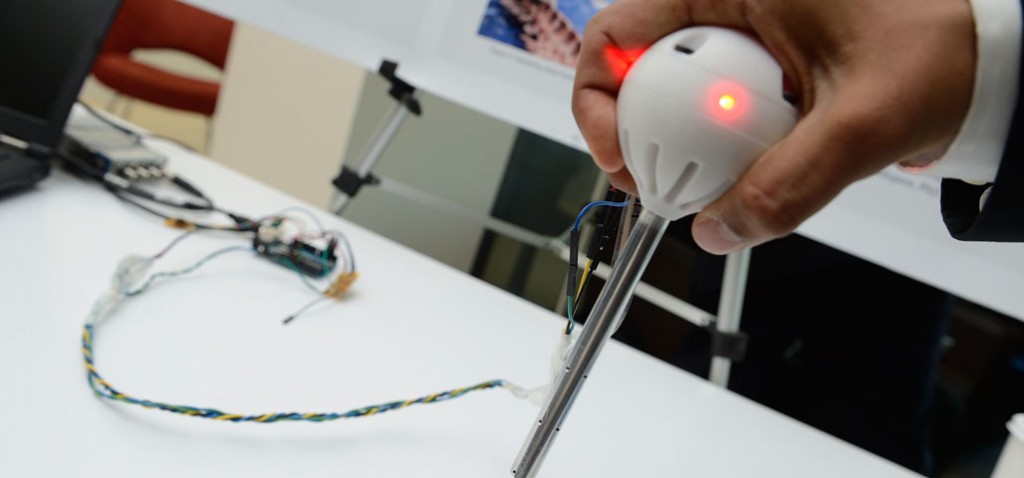 A team of Biomedical Engineering undergraduate students from Johns Hopkins recently won the 2014 Design by Biomedical Undergraduate Teams (DEBUT) Challenge for developing a device that aims to help surgeons safely and accurately place screws during spinal fusion procedures and surgeries for spinal abnormalities.
The AccuSpine pedicle probe was designed by eight undergraduates: Clay Andrews, Eric Xie, Adarsha Malla, Bradley Isaacs, Anvesh Annadanam, Erica Schwarz, Ravi Gaddipati, and Luis Herrera. Their project began in July 2013 as part of a Center for Bioengineering Innovation and Design design team class. Their goal was to address a clinical need for an effective guidance system for the safe and accurate placement of screws.
Judging for the competition was based on four criteria: the significance of the problem being addressed; the impact on clinical care; the innovation of the design; and the existence of a working prototype. The Johns Hopkins BME design team received the $20,000 first prize in the competition, which was conducted by the National Institute of Biomedical Imaging and Bioengineering (part of the National Institutes of Health).
Excerpted from The Hub. Read the complete story here.