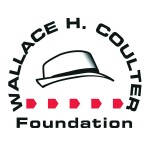 The Johns Hopkins-Coulter Translational Partnership is proud to have been named as one of 6 university partnerships established by the Wallace H. Coulter Foundation in 2011 to catalyze the commercialization of promising biomedical innovations. The Coulter Foundation initially supported 10 university partners beginning in 2005, which has resulted in 200 projects being funded, 17 start-up companies in formation, and over $300 million raised in follow-on funding.
The Johns Hopkins-Coulter program is led by the Department of Biomedical Engineering at the Johns Hopkins Whiting School of Engineering, in collaboration with the Johns Hopkins University School of Medicine and the Johns Hopkins Office of Technology Ventures.
This partnership supports collaborative research projects between Johns Hopkins physicians and biomedical engineering faculty consisting of designing and developing innovative medical devices, diagnostics, and therapeutics that can significantly improve the treatment of medical patients and reduce health care costs. The program's goal is to identify and fund at least six projects annually and guide them from the lab through early commercial development within three to five years.