Why the CBID Program at Johns Hopkins University Is Special?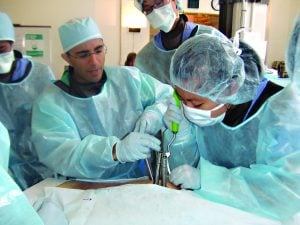 Ranked as the top biomedical engineering program by the U.S. News & World Report and considered to be one of the best medical device design programs among top graduate programs, the Center for Bioengineering Innovation and Design (CBID) at Johns Hopkins University offers a one-year MSE program for innovative thinkers. This intensive, non-traditional program offers plenty of hands-on experience and immersion in the healthcare field. It's also the most expensive program for Johns Hopkins University, as more money gets spent on this program than any other. There's no doubt that this is the ideal MSE program for engineers, medical students, and other innovative thinkers.
The Three Pillars of Our Program
The CBID program is comprised of three essential phases, each of which is designed to help students fully engage in the medical community:
Clinical Experience
The CBID program begins with an eight-week clinical rotation at Johns Hopkins Hospital. Students will observe general surgery, neurosurgery, obstetrics/gynecology, cardiology, emergency medicine, and more to have a better understanding of what challenges are facing patients, families, and healthcare providers. This is a type of clinical experience that most other engineering programs do not provide and truly helps students understand how to identify unmet clinical needs in a real-world setting.
The CBID experience is intense, and intensely rewarding. It begins with an eight-week clinical rotation at the world-renowned Johns Hopkins Hospital. The opportunity to rotate in one of the best hospitals in the world provides students with clinical interactions that most engineering programs simply cannot offer.
By experiencing real-world experiences, students become immersed in the clinical environment of Johns Hopkins to learn the art and skill of identifying unmet clinical needs. As students rotate through multiple clinical disciplines, they become part of the team of senior clinicians, surgeons, residents, fellows, nurses, and medical technologists.
Clifford R. Weiss, MD, CBID medical director, understands and values the fresh perspective that students bring to health care. "The concept behind CBID is that the best opportunities for innovation in health care occur at the intersection of multiple disciplines. For clinicians, it is challenging to innovate because their own methods of diagnosing and treating diseases are often ingrained, the result of years of training and practice in their specialties.
In contrast, engineering students bring a fresh approach to solving clinical problems, not having been 'burdened' by a traditional medical education and constrained by the limits of the current standard of care. At Hopkins, we find that blending these two groups leads to incredible opportunities for innovation: The clinician identifies unmet needs and problems, and the students work to analyze the problems and design solutions."
During their first weeks at CBID, students also learn the process of filtering all observations to a few valid medical device ideas by assessing market size, intellectual property landscape, regulations, and competitor dynamics. CBID graduate students spend time in a variety of departments, which may include General Surgery, Orthopedic Surgery, Urology, Interventional Radiology, Cardiology, Gastroenterology, Obstetrics/Gynecology, Neurosurgery, Ophthalmology, Transplant Surgery, and Emergency Medicine.
Global Immersion
Once the clinical rotation is complete, students then embark on a month-long trip to an overseas health clinic. Destinations include Nepal, Kenya, Tanzania, India, and Indonesia. Unlike the environment at Johns Hopkins Hospital where the equipment is top of the line and resources are plenty, the global health trip helps students learn about clinical needs in a third-world setting. The issues may not be as complex – for example, how to ensure a clinic can continue serving its patients even when the power supply fails – but they require unique solutions. It's important for CBID students to understand the needs of patients in all settings, not just industrialized countries, which is why the global health trip is an essential part of the program.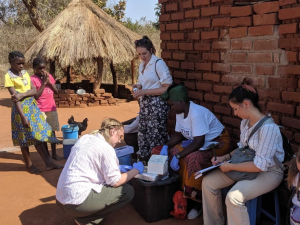 Each student in the CBID program works on a project focused on global or low-resource healthcare systems. Students travel internationally to target low-resource countries to enable a better understanding of healthcare needs.
Follow the blogs/TikTok account of our students as they travel to:
Uganda: Women's Health
Uganda: Mosquito Vector Surveillance
India: Accessible Eye Care in Rural India
Clinical immersions are followed immediately by a month-long trip to a selected destination such as Kenya, Nepal, Indonesia, India or Tanzania. The trip provides a firsthand understanding of clinical needs in a third-world environment. Students quickly realize that complex problems require elegant solutions in areas where the power supply can be sporadic, equipment is basic, and demand for beds outpaces supply.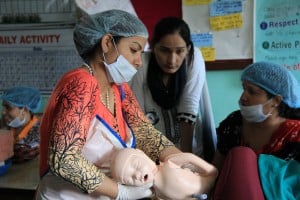 "Traveling to Nepal was one of the best experiences I have ever had," says CBID student Ian Graham. "Nepal was completely and utterly different. My team, focusing on global surgery, spent much of its our time in the operating theaters interacting with surgeons, nurses, and techs. We found many different clinical needs with massive public health impact.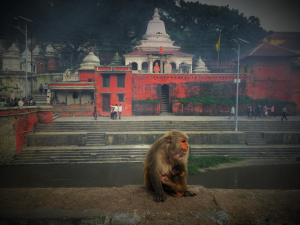 "The trip gives us perspective. It helps us work on global health initiatives with the face of each stakeholder in mind. Personal contact takes the place of Skype, email, or international phone calls, and most of all, it shows us what health care is really like on the ground. As we choose our focus areas now that we've returned, we are considering factors like power outages and resource availability from a realistic standpoint rather than from a computer screen. Without the trips, our work in the global health space would be projects without passion. With the trips, our work has more meaning and a direct connection to people. We see the potential for impact, and we work hard to make it happen."
Global immersion is particularly important to CBID Executive Director Youseph Yazdi because it helps students develop into global innovators for the entire world, not just industrialized countries. "In some of the world's lowest resource settings, people face a poverty of information about health and proper care. That's unacceptable when an ocean of information is as near as your mobile device. We aim to expose students to this reality and then give them the resources and mentorship to create real solutions."
CBID student team interviewing in Uganda.
Innovative Device Design
The third phase of the CBID program is developing an innovative medical device that helps fulfill an unmet clinical need. Drawing on their insight from their clinical rotations at Johns Hopkins Hospital and abroad, students decide on a project and execute it. They work in teams to develop a commercialization strategy, research about the feasibility of the product from both a technical and clinical standpoint, and discuss the product with our industry partners. In many cases, students take the product they have designed in the CBID program to launch a startup and/or prepare their medical device for commercialization.
The CBID program culminates in a Design Day showcase event where students present their projects to other students, mentors, advisors, and sponsors. It's a day of celebrating our students' hard work and dedication to medical innovation.
Curriculum
The Center for Bioengineering Innovation and Design MSE program is intended for a student with an undergraduate degree in an engineering discipline and who also may have industry or research experience. The 12-month program begins at the start of summer and runs continuously through the fall and spring semesters. Students will graduate with a Master of Science in Engineering (MSE) in Bioengineering Innovation and Design degree in late May at the Homewood campus commencement.
Note: the curriculum is subject to change.
Summer Courses
580.601 – Seminar: Special Topics in Bioengineering Innovation and Design
660.604 – The Business of Bioengineering Innovation and Design
580.608 – Identification and Validation of Medical Device Needs
580.618 – Identification and Validation of Global Health Needs
580.621 – Insight Informed Innovation I
Fall Semester
580.602 – Seminar: Special Topics in Bioengineering Innovation and Design
580.607 – Regulation of Medical Devices
660.606 – The Business of Bioengineering Innovation and Design
580.611 – Biomedical Device Design and Innovation (for US market)
580.619 – Principles and Practice of Global Health Innovation and Design
580.621 – Insight Informed Innovation II
Spring Semester
580.603 – Seminar: Special Topics in Bioengineering Innovation and Design
660.606 – The Business of Bioengineering Innovation and Design
580.612 – Biomedical Device Design and Innovation (for US market)
580.619 – Principles and Practice of Global Health Innovation and Design