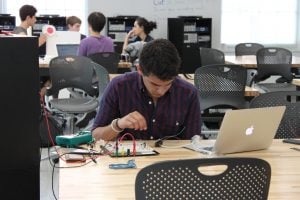 Thanks to the generous support of The Abell Foundation, the Center for Bioengineering Innovation and Design (CBID) at Johns Hopkins University is able to offer a second-year fellowship for students involved in our intensive one-year MSE program. The Abell Fellowship allows students to focus on building a new venture around the concept they developed during their first year. All first-year CBID students develop a medical device based on a need they identified during clinical rotations and while immersed in an overseas health clinic. They work with some of the nation's top physicians and engineers to brainstorm, design, and implement a prototype that can have a lasting impact for patients and the healthcare community as a whole.
What Does This Fellowship Entail?
The second-year fellowship allows students to continue moving forward with their innovative concept with the ultimate goal of commercialization. Our fellows are given a grad student salary, space and supplies, and mentorship from esteemed engineers. Students are able to apply for additional funds, write papers and patents, and even launch companies. In fact, multiple startups have been launched by our fellows, including Intelehealth, Spine Align, Eyedea Medical, AssistENT, and CeleFlux.
Each year, four fellows are chosen for this fellowship and one of the factors that holds great weight in whether or not they are selected is the potential of their project. The CBID faculty will discuss the projects around mid-spring with the students to identify what steps need to be taken to bring their device to commercialization.
It's important to note that the second-year fellowship opportunity depends on funding. The number of fellows we can accept and the level of support we can offer is contingent on the philanthropic and grant funding we receive.
Our Former & Current Fellows
The faculty at the CBID is excited to offer this second-year fellowship opportunity to students who have shown drive and determination for getting their medtech product out into the world. We've helped many students do this very thing, and our existing and past second-year fellows include:
2022 – 2023 Fellows
Janis Iourovitski, OvuBrush: Providing discrete and easy fertility window tracking
Spencer Shumway, inWave: Revitalizing aging brains by enhancing deep sleep
Antony Fuleihan, CurveAssure: A new era in spine care with dynamic assessment
Evan Haas, CurveAssure: A new era in spine care with dynamic assessment
Jordan Shuff, Visilant: Enabling Access to Eye Care to Eliminate Avoidable Blindness, Globally
2021 – 2022 Fellows
Jordan Shuff, Visilant: Enabling Access to Eye Care to Eliminate Avoidable Blindness, Globally
Rebecca Rosenberg, Empowering communities in sub-Saharan Africa with the data necessary to eliminating malaria
Namratha Potharaj, Enabling Access to High-Quality Cataract Care, Globally
Joshua De Souza, Enabling Access to High-Quality Cataract Care, Globally
Mohit Singhala, Innovator in Residence
2020 – 2021 Fellows
Jessica Dakkak, Novel Method of High Flow Portable Oxygen Supplementation
Jonathan Smith – Novel Method of High Flow Portable Oxygen Supplementation
Namratha Potharaj – Enabling Access to High-Quality Cataract Care, Globally
Joshua De Souza – Enabling Access to High-Quality Cataract Care, Globally
Monet Slinowsky – Empowering communities in sub-Saharan Africa with the data necessary to eliminating malaria
2019 – 2020 Fellows
Jessica Dakkak, Novel Method of High Flow Portable Oxygen Supplementation
Jonathan Smith – Novel Method of High Flow Portable Oxygen Supplementation
Namratha Potharaj – Enabling Access to High-Quality Cataract Care, Globally
Joshua De Souza – Enabling Access to High-Quality Cataract Care, Globally
2018 – 2019 Fellows:
Katie Solley – Eyedea
Saki Fujita – Spine Align
Adam Goodwin – VectorWeb
Tristan Ford – VectorWeb
2017 – 2018 Fellows:
Amir Soltanzadeh – Spine Align
Clay Andrews – AssistENT
Neha Goel – InteleHealth
Teja Maruvada – CeleFlux
2016 – 2017 Fellows:
Chanya Elakkad – CeleFlux
Teja Maruvada – CeleFlux
Neha Goel – InteleHealth
Amal Alam – InteleHealth