BME Design Studio grand opening
November 12, 2014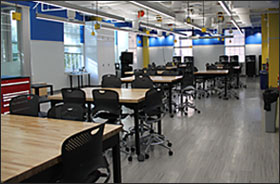 On the second floor of Clark Hall, Elliot McVeigh, Director of the Department of Biomedical Engineering, has ushered in a new era of design education with the opening of the gleaming 3,000-foot BME Design Studio, a resource-rich, creative space engineered to pioneer a 21st-century approach to learning design.
Dean Ed Schlesinger, of the Whiting School of Engineering stated, "The BME Design Studio is more than a classroom. It is a workshop where engineers go beyond drawings and have the opportunity to build and test. It is a place for engineers to train as well as act as engineers."
The studio is jam-packed with supplies and prototyping equipment and is central to the freshman design experience and the upper-level design teams as well as the graduate-level master's students in BME's Center for Bioengineering Innovation & Design.
Excepted from an article from the Johns Hopkins Department of Biomedical Engineering news. Read more.