Improved suit for Ebola caregivers selected for funding in federal competition
December 12, 2014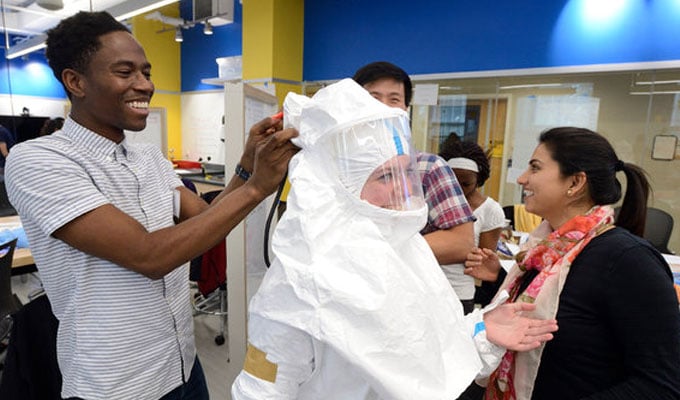 An advanced protective suit for health care workers who treat Ebola patients, devised by a Johns Hopkins team, is one of the first five awardees in a federal funding contest aimed at quickly devising new tools to combat the deadly disease.
The Johns Hopkins prototype is designed to do a better job than current garments in keeping health care workers from coming in contact with Ebola patients' contagious body fluids, both during treatment and while removing a soiled suit. In addition, it is expected to keep the wearer cooler—an important benefit in hot, humid regions such as West Africa.
The first projects selected for the federal funding were announced Dec. 12 by the U.S. Agency for International Development (USAID) through its new program, launched in October, called Fighting Ebola: A Grand Challenge for Development.
The improved protective suit is being developed by a team of medical experts, engineers, students and other volunteers under the supervision of Johns Hopkins University's Center for Bioengineering Innovation and Design (CBID) and Jhpiego, a nonprofit Johns Hopkins affiliate that focuses on international health programs. The precise amount of funding and other support that the USAID will award to this project is still under review.
The agency is clearly pleased with the early results of its competition, which led to the submission, in just two months, of more than 1,500 ideas from innovators around the world.
"The Fighting Ebola Grand Challenge embodies our new model of development—bringing together the world's brightest minds to solve our biggest global challenges," USAID Administrator Rajiv Shah said.
Johns Hopkins' improved health care protective suit grew out of a weekend-long design brainstorming event hosted in October by CBID on the university's Homewood campus in Baltimore. The 65 participants represented a wide range of Johns Hopkins students; medical, public health and engineering experts; and even a few community volunteers with valuable skills and perspectives, including a wedding gown designer and an architect.
The organizers also took advantage CBID's close, ongoing partnership with Jhpiego, which has extensive experience in addressing global health challenges. For example, the organization has developed deep expertise in infection prevention and control. The group also has amassed 20 years of field experience, working with health providers and in health facilities in Liberia and Guinea, two Ebola-affected countries.
"If ever there was a public health crisis that merits the finest science, medicine and innovation the world has to offer, it is this one," said Leslie Mancuso, Jhpiego president and CEO. "The personal protection suit we are developing with our partners at the Center for Bioengineering Innovation and Design is purposefully designed to address safety and climate issues now putting health workers at risk."
Some of these enhancements include a large clear visor in the hood, which is integrated into the suit; air vents in the hood; a rear zipper to reduce infection risks while removing the garment; a cocoon-style doffing process that requires far fewer steps than existing garments; and a small battery-powered, dry air source to cool the user by blowing air into the hood.
The cooling technology used in the garment was originally developed for cooling patients in cardiac arrest by Johns Hopkins cardiologist Harikrishna Tandri, under the auspices of a NIH SBIR grant.
With the basic improvements identified, a small group of core of team members, supervised by CBID and Jhpiego, will proceed to fine-tune the prototype protective suit, with a goal of getting some elements of the design ready for mass production perhaps as early as April.
"The funding from USAID will support moving our concepts into fully functional prototypes," said Youseph Yazdi, executive director of CBID. "This will allow the team to do more detailed evaluations of our concepts, and quickly move to evaluations in the field. By the end of the funded timeline, we will have a product design that is ready to be taken up by a major manufacturer, or several, for large-scale production and distribution. Our goal is to follow the fastest path to get these concepts into the field and having an impact."
CBID operates within the Johns Hopkins Department of Biomedical Engineering. The Department is shared by the university's School of Medicine and its Whiting School of Engineering. The GE Foundation and Clinvue provided support for the protective suit project.
Watch a video about the protective gear here.