Undergrads bring home three awards from NIH DEBUT Challenge
September 1, 2017
Undergraduate design teams in the Center for Bioengineering Innovation and Design won three awards at the NIH DEBUT Challenge. This design competition recognizes undergraduate excellence in biomedical design and innovation. Entries were judged on significance of the problem being addresses, impact on potential users and clinical care, innovative design, and working prototype.
More about the Johns Hopkins winning teams:
Third Place Overall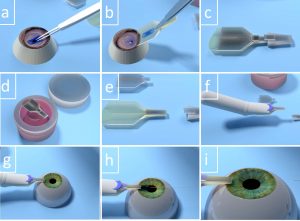 Treyetech, Johns Hopkins University
Team members: Kali Barnes, Stephanie Cai, Akash Chaurasia, Conan Chen, Eric Chiang, Allison Rosen, Anshul Subramanya, Parth Vora
It was designed to facilitate the insertion of healthy cornea tissue grafts to replace damaged tissue, in a corneal transplant procedure called Descemet's Membrane Endothelial Keratoplasty. The operation can completely restore a patient's vision, but is difficult to perform correctly because corneal tissue is fragile, easily damaged upon contact, and tends to fold up on itself once inserted. The Treyetech technology tri-folds the tissue and places it in a special inserter device before it reaches the operating room. Then surgeons use the inserter to place the tissue without damaging it. Once in place, it naturally unfolds by itself thanks to the special tri-folding. The tool could help reduce the total time of surgery and limit potential problems.
Design Excellence Prize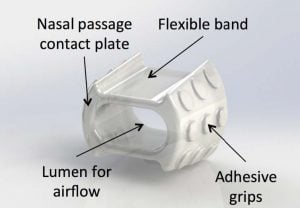 AssistENT, Johns Hopkins University
Team members: Clayton Andrews, Melissa Austin, Eric Cao, Alexander Galvin, Talia Kirschbaum, Theodore Lee, Pooja Nair, Harrison Nguyen
The AssistENT is a comfortable and discreet nasal dilator that can be inserted into obstructed nostrils to open the airways and facilitate breathing. Current nasal dilators are intended to be used only during sleeping hours, can be difficult to use, and are uncomfortable after prolonged use. They are also visible, making it unlikely that those needing help breathing during the day would use them. The AssistENT device is made from flexible, form-fitting materials that do not cause discomfort. It is also not visible when in use, eliminating the social stigma associated with existing dilators. AssistENT is the first intranasal dilator that is fully suitable for use during the day, and it could present a viable alternative to reconstructive surgery to enhance nasal breathing.
Honorable Mention

Kaleyedos, Johns Hopkins Univeristy
Team members: Richard Chen, Seony Han, Sami Messai, Rebecca Miller, Aditya Murali, Erica Schwarz, Prerna Singh, Elizabeth Wu
Retinopathy of prematurity (ROP) is a retinal disease that affects 20-70% of premature infants. If left untreated, it can cause visual impairment and blindness. Today, ROP accounts for up to 60% of childhood blindness; it is the leading cause of childhood blindness worldwide. Kaleyedos aims to reduce the global incidence of ROP-induced visual impairment by providing a telemedicine solution to ROP screening: the Kaleyedos Imaging Device (KID). The KID seamlessly integrates novel imaging hardware, a cloud-based telemedicine workflow, and an image processing suite to overcome the two main barriers to ROP screening: personnel availability and equipment cost.
Read about all the winning teams at National Institute of Biomedical Imaging and Bioengineering.