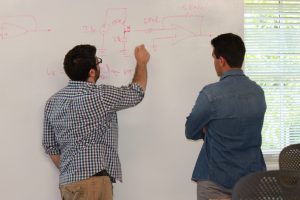 Are you interested in applying to a bioengineering master's program to further your studies? If so, consider the one-year intensive program at Johns Hopkins University. We offer a Master of Engineering (MSE) at our Center for Bioengineering Innovation and Design (CBID) that involves clinical rotations at Johns Hopkins Hospital, a global health trip, and development of a medical device prototype. While having a background in engineering, design, or the medical field is a plus, it's not a requirement for this program. In fact, we love having students from all different backgrounds because it provides a fresh perspective for everyone involved.
To watch the recording of 2022 CBID Info Session: Click Here
Application Requirements
Here's what you'll need in order to apply for the CBID program:
A Statement of Purpose
Three letters of recommendation (at least one of these letters needs to be from a former or current professor or a professor you have worked with)
GRE scores that are less than three years old*
Unofficial undergraduate transcript(s)
Resume
TOEFL or IELTS, required for international students if English is not your primary language
Our program engages in holistic admissions review and we expect many competitive applications will not include GRE scores this year. We will review all applications equally and there will be no disadvantage to applicants with approved waivers.
If you have special projects, published papers, or anything else that may be of interest to the admissions committee, feel free to submit it along with your application for consideration. This is a time for you to share your accomplishments and tell us all the ways you stand out. After all, you're applying to one of the most competitive graduate programs in the nation. Our program isn't one focused on lectures and exams but instead involves gaining real-world, hands-on experiences, which is why we keep our program size small to allow for better discussions and brainstorming sessions. Typically, we accept 20 to 24 students and often receive upwards of 150 applicants.
Deadline to Apply
CBID MSE applications for the 2023-2024 academic year are CLOSED.
To learn more about our bioengineering graduate program, get in touch with us today and we'll be glad to answer your questions.