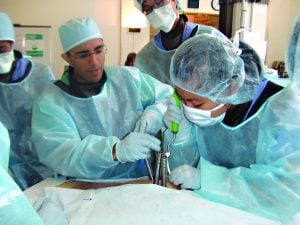 The CBID experience is intense, and intensely rewarding. It begins with an eight-week clinical rotation at the world-renowned Johns Hopkins Hospital. The opportunity to rotate in one of the best hospitals in the world provides students with clinical interactions that most engineering programs simply cannot offer.
By experiencing real-world experiences, students become immersed in the clinical environment of Johns Hopkins to learn the art and skill of identifying unmet clinical needs. As students rotate through multiple clinical disciplines, they become part of the team of senior clinicians, surgeons, residents, fellows, nurses, and medical technologists.
Clifford R. Weiss, MD, CBID medical director, understands and values the fresh perspective that students bring to health care. "The concept behind CBID is that the best opportunities for innovation in health care occur at the intersection of multiple disciplines. For clinicians, it is challenging to innovate because their own methods of diagnosing and treating diseases are often ingrained, the result of years of training and practice in their specialties.
In contrast, engineering students bring a fresh approach to solving clinical problems, not having been 'burdened' by a traditional medical education and constrained by the limits of the current standard of care. At Hopkins, we find that blending these two groups leads to incredible opportunities for innovation: The clinician identifies unmet needs and problems, and the students work to analyze the problems and design solutions."
During their first weeks at CBID, students also learn the process of filtering all observations to a few valid medical device ideas by assessing market size, intellectual property landscape, regulations, and competitor dynamics. CBID graduate students spend time in a variety of departments, which may include General Surgery, Orthopedic Surgery, Urology, Interventional Radiology, Cardiology, Gastroenterology, Obstetrics/Gynecology, Neurosurgery, Ophthalmology, Transplant Surgery, and Emergency Medicine.