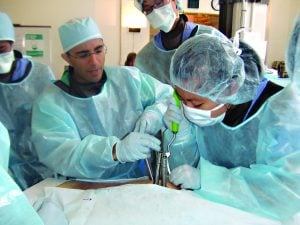 Ranked as the top biomedical engineering program by the U.S. News & World Report and considered to be one of the best medical device design programs among top graduate programs, the Center for Bioengineering Innovation and Design (CBID) at Johns Hopkins University offers a one-year MSE program for innovative thinkers. This intensive, non-traditional program offers plenty of hands-on experience and immersion in the healthcare field. It's also the most expensive program for Johns Hopkins University, as more money gets spent on this program than any other. There's no doubt that this is the ideal MSE program for engineers, medical students, and other innovative thinkers.
The Three Pillars of Our Program
The CBID program is comprised of three essential phases, each of which is designed to help students fully engage in the medical community:
Clinical Experience
The CBID program begins with an eight-week clinical rotation at Johns Hopkins Hospital. Students will observe general surgery, neurosurgery, obstetrics/gynecology, cardiology, emergency medicine, and more to have a better understanding of what challenges are facing patients, families, and healthcare providers. This is a type of clinical experience that most other engineering programs do not provide and truly helps students understand how to identify unmet clinical needs in a real-world setting.
Global Immersion
Once the clinical rotation is complete, students then embark on a month-long trip to an overseas health clinic. Destinations include Nepal, Kenya, Tanzania, India, and Indonesia. Unlike the environment at Johns Hopkins Hospital where the equipment is top of the line and resources are plenty, the global health trip helps students learn about clinical needs in a third-world setting. The issues may not be as complex – for example, how to ensure a clinic can continue serving its patients even when the power supply fails – but they require unique solutions. It's important for CBID students to understand the needs of patients in all settings, not just industrialized countries, which is why the global health trip is an essential part of the program.
Innovative Device Design
The third phase of the CBID program is developing an innovative medical device that helps fulfill an unmet clinical need. Drawing on their insight from their clinical rotations at Johns Hopkins Hospital and abroad, students decide on a project and execute it. They work in teams to develop a commercialization strategy, research about the feasibility of the product from both a technical and clinical standpoint, and discuss the product with our industry partners. In many cases, students take the product they have designed in the CBID program to launch a startup and/or prepare their medical device for commercialization.
The CBID program culminates in a Design Day showcase event where students present their projects to other students, mentors, advisors, and sponsors. It's a day of celebrating our students' hard work and dedication to medical innovation.
The CBID program at Johns Hopkins University is one of the most exciting MSE programs in the nation. If you would like to learn more about this program and what makes it so special, fill out the below form and we'll be in touch.