MSE Degree Program
The David E. Swirnow Master of Science in Bioengineering Innovation and Design is a rigorous real-world medical innovation and biodesign program, aimed at training the next generation of global medical innovators. From Asia to Africa to the United States, CBID engineers are on the front lines, creating technologies that make patients' lives better.
The application deadline for 2023 academic year has CLOSED.
To watch the recording of 2022 CBID Info Session: Click Here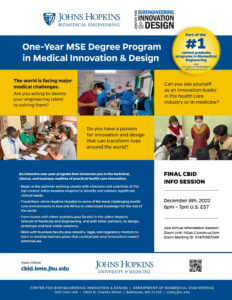 If you have any questions about the program, please fill out the form below and a CBID administrator will contact you!
From the first day on campus, students interact with Johns Hopkins Hospital clinicians — some of the best in the world — then travel to meet in person those who will most benefit from their work. Upon return students dive into cross-disciplinary course work, taking their ideas from napkin to prototype in a state-of-the-art design studio carefully created for collaboration and efficiency. The support of top clinicians, investors, the FDA, reimbursement experts, country ministers, and others necessary for success is readily available. As a result of this unique access, many students graduate with patents for their projects.
See for yourself why U.S. News & World Report ranked Johns Hopkins University #1 in the nation for biomedical engineering graduate programs and call today.