Join us this January for a US-GAZA Humanitarian Health Design Hackathon with students, faculty, and experts based in Baltimore and Gaza.
Participants will listen and participate in live lectures held in Baltimore and Gaza to help them understand the design process and healthcare needs in Gaza. Participants will share questions and discussion on the issues with experts. Details on topics covered below. Participants will have the opportunity to speak directly with care workers and residents to better understand the needs and context.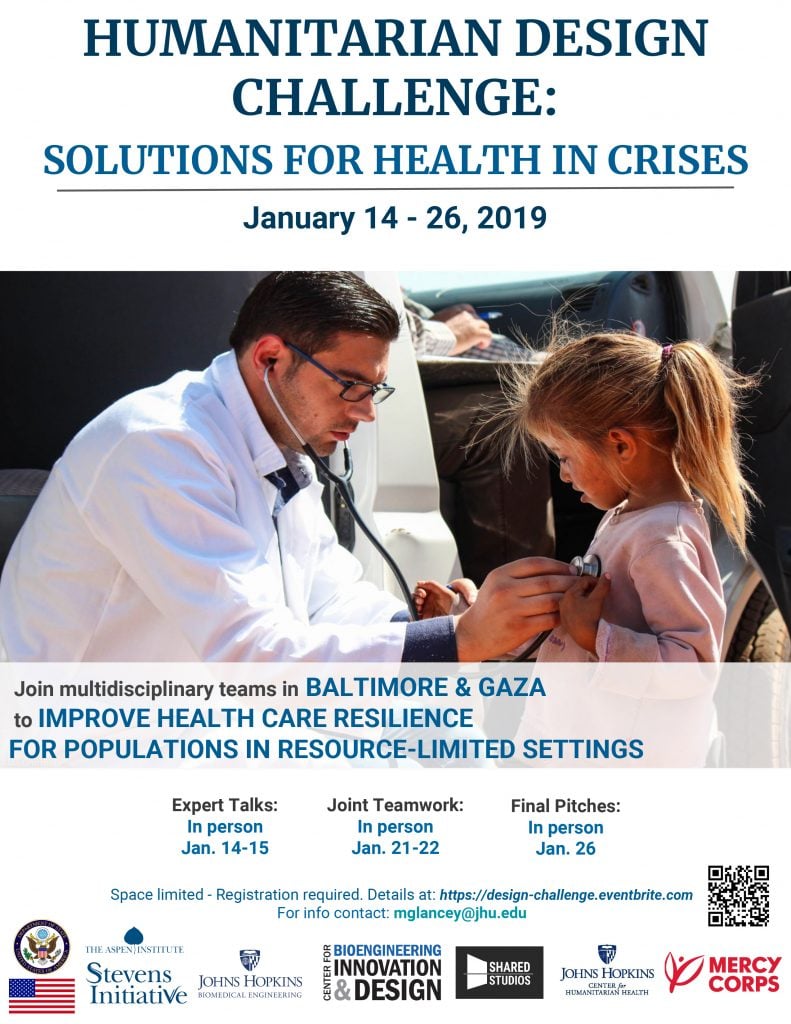 WHAT: Hackathon participants will be on teams comprised of participants from both locations. Teams will collaborate using tools such as Google Drive, Whatsapp, and Google Hangouts to exchange ideas and create shared documents detailing their ideas, solutions, stakeholder feedback, etc. They will also have access to a "Portal" – a roomequipped with immersive audiovisual technology to ensure smooth virtual collaboration. Teams receive extensive mentorship by Innovation Mentors, Subject Matter Experts, faculty, and staff who will guide the teams through the design process. Prototyping supplies will be available on both sites. Each team will report to the larger group on the needs they have chosen to address and on their solution concepts.
WHERE: Participants in Gaza will work in a space designated by Mercy Corps and participants on the JHU campus will work in Clark Hall, on the Homewood Campus.
WHEN: Participants will be expected to attend the hackathon in person on January 14 and 15, 2019. Teams should work independently January 21-22 as needed and attend the live joint sessions during this time. All required times are outlined below.
BEYOND THE HACKATHON: For those interested, teams will continue to work together on an ad hoc basis and receive guidance from faculty. For the top teams and ideas, additional support for grant applications will be provided throughout 2019.
WHO MAY ATTEND: Students, fellows, health practitioners, engineers, entrepreneurs, innovators, and designers from Gaza and Baltimore can apply. Preference will be given to students at the undergraduate and graduate levels, in all related fields, including Engineering, Public Health, Nursing, and Medicine are stronlgy encouraged to particpate!
Some skillsets that we are looking to include (but not limited to) are:
· Public Health students and professionals from all disciplines
· Engineers and computer scientists of all backgrounds
· Industrial Design & Human Factors Engineers
· Materials Scientists
· Highly creative and inventive people of all backgrounds
ORGANIZERS AND SUPPORT: This unique event is supported by the Aspen Institute Stevens Initiative and organized by JHU CBID and Mercy Corps.
HACKATHON PARTICIPATION RECOGNITION AND CREDIT: All participants who complete the program will receive a Certificate of Completion for the "Designing Solutions for Health Challenges in Humanitarian Crises Hackathon." Contact your local university or organization (JHU or Mercy Corps) about the possibility of receiving formal university course credit. Rules differ per institution.
OUTCOMES: At the completion of the hackathon, participants should be able to:
Identify and define public health problems and needs in a specific domain for design purposes.
Understand and engage with stakeholders in humanitarian settings to understand needs, constraints, and context, using appropriate research and design tools
Apply formal design processes from different disciplines for the design of solutions and interventions given a set of constraints
Apply relevant and appropriate technologies and tools to prototype their designs
Present their problems and designs to a diverse audience effectively
Function effectively in a team with diverse backgrounds and perspectives
Articulate a deeper understanding of perspectives and concerns of students in the Middle East and the United States.
IP RULES: By registering, participants agree that all concepts contained in the idea submission forms will be the property of their respective institution (JHU or Mercy Corps, based on the location), and will be managed according to the established IP rules of their institution. Some ideas submitted may be selected to include in proposals by the program organizers for funding for further development of these solutions. If your idea (based on the forms submitted) is included in one of these proposals and funding for development is obtained, you will be invited to participate in further development efforts via your institutional partner.
REGISTRATION IS REQUIRED FOR ALL PARTICIPANTS. PLEASE ENSURE THAT YOU HAVE RECEIVED A CONFIRMATION EMAIL FROM THE ORGANIZERS THREE WEEKS PRIOR TO THE HACKATHON.
IF YOU HAVE ANY QUESTIONS, PLEASE CONTACT:
At Mercy Corps (Gaza): Wafa Ulliyan [email protected]; Jasem Humeid [email protected]
At Johns Hopkins University (Baltimore): Sofia Ahsanuddin sahsanu1@jhu.edu; Meg Glancey [email protected]; Youseph Yazdi [email protected]