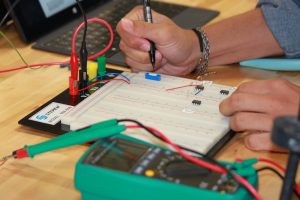 Intelehealth is a startup that was founded by one of the second-year fellows in our MSE program at John Hopkins University's Center for Bioengineering Innovation and Design (CBID). It provides evidence-based comprehensive primary healthcare to underserved and remote regions of the world using its innovative telemedicine platform. This platform uses a digital assistant to guide healthcare providers who are at the frontlines of care. Intelehealth has set up these telemedicine programs in India, Haiti, and the Philippines with grassroots-level organization. Over the past two years, Intelehealth has been recognized for its innovative work with prestigious awards, including:
Rainer Arnhold Fellowship
Year granted: 2019
Award money: $100,000
The Rainer Arnhold Fellowship by the Mulago Foundation invests in high-performance organizations that tackle the basic needs of the very poor. Rainer Arnhold fellows are leaders that find scalable solutions to issues affecting those in poverty.
"Getting to Know You" Grant From the Peery Foundation
Year granted: 2018
Award money: $50,000
The Peery Foundation invests in and serves social entrepreneurs and leading organizations all around the world. The "Getting to Know You" grant provides up to $50,000 to build relationships, experiment with new themes, and/or test how organizations resonate with the Peery family. The foundation provides hands-on service if needed or simply offer their money and resources in a hands-off approach; it's all up to the individual organization as to what level of support they desire.
Creating Hope in Conflict: A Humanitarian Grand Challenge
Year granted: 2018
Award money: $250,000
This Grand Challenge is sponsored by the U.S. Agency for International Development, the U.K. Department of International Development, the Netherlands government, and Grand Challenges Canada. It identifies and supports groundbreaking solutions that engage the private sector and draw from the experiences of affected communities in order to improve, or even save, the lives of people affected by conflict. The ultimate goal of this Grand Challenge is to identify solutions that allow communities to respond better to complex emergencies and take steps to create better lives for themselves.